The Isofix base from Simple Parenting has been designed especially for the Doona™, it is installed into your car using the ISOFIX anchor points to re-assure you that the seat is secured correctly without the need to additionally secure it in place with a seatbelt. The base has been engineered with safety and simplicity at the forefront of the design, simply click the Doona™ car seat into position and un-clip from the base to lift the seat from vehicle.
Suitability: The Doona™ ISOFIX Base is compatible with the Doona™ Infant Car Seat and is intended for Rear-Facing use only.
Group: 0+
Weight: Birth up to 13 kg.
Package Dimensions: 18.8 cm / 45 cm / 68.8 cm
Product Weight: 7.2 Kg
Safety:
Based on Semi-Universal approval
"Normally open" mechanism, which locks only when putting the Doona on top of the ISOFIX base
Prominent support leg color indicator to avoid misuse
What is ISOFIX?
ISOFIX is an international standard for safely and easily attaching an infant car seat in vehicles without using the vehicle's seat belts. Using ISOFIX connectors dramatically reduces installation errors and improves the safety of car seats.
The name ISOFIX comes from the merge between ISO (International Standardization Organization) and FIX (Fixation). The ISOFIX standard warrants two main safety elements:
Rigid ISOFIX connectors on the car seat base which connect to standard anchor points in the vehicle seat.
Reinforced adjustable support leg (also called foot-prop).
Some cars made prior to 2006, and all cars made from 2006 are equipped with ISOFIX anchor points.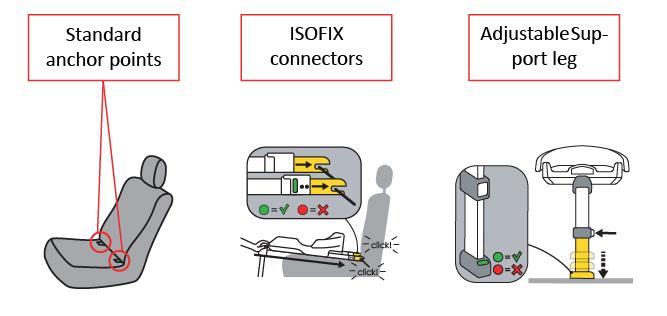 What is Semi-universal approval
Semi-universal approval is when, in addition to the standard requirements, it requires the use of an additional safety or anti-rotation device-foot prop, which may affect compatibility with certain vehicles. It also requires additional testing.
Check if your vehicle appears on the Car Fitting List for that particular child seat.